Christine Lashley watercolor palette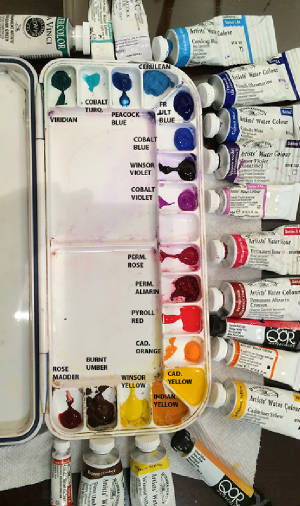 Note: substitute Hookers Green for Viridian
Here is the latest supply list, with many notes on how to choose supplies. It's a long list, but try to read through it! I promise it will answer most questions; and perhaps some answers to questions you didn't even know to ask.
ABOUT YOUR MATERIALS: These items are recommended. Buy the best you can afford. I know supplies are expensive, but better quality materials mean better results. Try to order supplies ahead via mail order. A local craft store often charges 50-75% more than mail order suppliers. If you have limited funds here is the order in which to spend your money: 1) paper (see below), 2) brushes, 3) paint. Advanced students can bring favorite supplies. For example, if you prefer painting with flat brushes versus rounds that is fine. For beginners: think quality over quantity. Watercolor paints and brushes will last a long time and it's better to get a small amount of quality items (and add to your stash later when your budget allows) instead of a pile of student grade stuff that you will want to 'upgrade' later. For those who 'just want to try out' watercolor to see if it's fun, then yes, go ahead and get the student-grade materials. They will be more economical. But don't think 'I'll get the good stuff when I'm better', no, no, no! You deserve it now and the good stuff will help you get better.
PALETTE - The Mijello Fusion (formerly called: Homee) plastic palette that can be folded up (see photo above). You can get this online at Jerry's Artarama. For beginners a larger palette with a lid can be good such as the John Pike palette, but this is very cumbersome to tote to class. If you travel or ever want to paint on location the Mijello palette is best. Palettes should be carried flat to and from class, so fresh paint does not ooze where it should not be (like in your tote bag). The Mijello states that it is air-tight, but experience has taught me to put it in a large ziploc anyway.
WATERCOLOR PAPER - 140 lb. sheets or blocks. Cold press is the most popular finish but you may use hot press or rough to experiment with or if you prefer. Size should be at least 9" x 12." Look for the tag line: "100% cotton or rag content." Student-grade is OK for color swatch practice or those on a strict budget. However, your results will be so much better with good paper. You really get what you pay for! With quality paper you can use the back of the sheet as well. Loose sheets are more economical than blocks, but need to be taped to a waterproof board with tape that will not ruin the paper when removed (white artist's tape is a good choice). Watercolor blocks are prestretched and ready to go as-is. A good size: 9 x 12" watercolor block, 140 # cold press. There are many good brands of paper. I like Arches and Fabriano. Note: paper manufacturers are now making 'traditional' or 'natural white' and 'bright white'. Either is fine. I prefer traditional.
BRUSHES - Synthetic, sable (or a blend) watercolor brushes. Larger is better! Suggested assorted sizes: No. 12, a No. 8 or 10, round. Important!!! A dozen brushes are NOT needed. Don't get seduced by a big 'jumbo pack' of brushes for a cheap price, these are inferior quality. Instead, put your money into a few good brushes... or just one! If you can only afford one good brush, buy a #10 sable round watercolor brush. If that is too much (about $40) my second choice for one brush would be a #12 synthetic brush (about $10-15). Choose round brushes that form a good point and spring back to shape when wet.
The best brushes are pure kolinsky sable ('red sable' is good too, but lesser quality). Sable brushes can be VERY expensive. "Escoda" Tajmyr (red handle, series 1212) brushes are very good quality, pure Kolinsky sable, at an excellent price (see link for art sources). Budget synthetic choices are Sapphire Robert Simmons brushes.
Note: Some new brushes have a hard glue-like protective coat on the hairs. This comes off with plain running water (you can't get rid of it by just swishing in a bucket). Others come with a plastic protective tube. Do NOT force your brush back into this tube after you take it out, it can ruin the hairs on your brush.
Get a brush carrier to protect your brushes. Simple bamboo roll-up style, or other case.
There is a USA shortage on sable brushes. Kolinsky sable brushes can be purchased from Jackson's in the UK, often they have cheaper prices for brushes.
OTHER - Small natural sponge, and paper towels. Pencil and soft white eraser. Sketch pad of 60 or 80 lb. white paper (8 x 11 is fine) for quick watercolor studies, pencil sketches and notes. Large container for water. Tape and board if using paper sheets. Carry case to protect your brushes.
PAINTS - I buy tubes of moist watercolor paint. There are two kinds of paint, 'professional' or 'artist' grade and 'student' grade. (For example Winsor & Newton's student grade paint is called "Cottman"). Student grade is fine for experimenting or to start out, but to get great results you should use professional paints - they contain more pure, saturated color and less 'filler'. (Winsor Newton's Cottman line, and also Grumbacher make decent student grade paint, avoid cheap paint such as 'Koi' or 'Reeves' sets). Suggested palette is in Winsor & Newton Artist's colors (except my prefference of Maimeriblu's Orange Lake, Holbein's Peacock Blue, DaVinci's Viridian, also note Yellow optional colors). You don't need all of these colors but they all have benefits. (I have all of these and find them useful at different times when painting.) Buy colors with a (*) if you can only afford a limited palette. Purchasing larger tubes (14, or 37 ml) is much more economical per use, however, it is better to buy small tubes of Artist-grade paint than big tubes of student-grade paint. Your tubes will last for years, so consider this an investment.
To note: not all colors are the same across brands. For example, a basic color such as Burnt Umber may look and paint differently depending on brand.
Yellow: Cadmium Yellow; *Winsor Yellow, *Qor Indian Yellow (or Dan Smith New Gamboge)
Red: Qor Pyroll Red Light (or Winsor Red); *Permanent Alizarin Crimson
Blue: *Cobalt Blue; *French Ultramarine Blue (not 'deep' version); *Cerulean Blue; Peacock Blue (Holbein) (or WN's Winsor Blue Green Shade... same as Phthalo Blue in other brands)
Orange: WN's Cadmium Orange
Green: Hooker's Green
Brown: *Burnt Umber; (optional if you like neutrals: Sepia, Brown, Madder, Burnt Siena)
Other: *Permanent Rose; Cobalt Violet; Cobalt Turquoise Light; Winsor Violet; Holbein Titanium White Gouache; Quinacridone Magenta
Special note about Winsor and Newton's New Gamboge (soft true yellow) I used for years and loved. This is no longer be made. Apparently pigment is no longer available. Daniel Smith still makes this but it's not the same as the older Winsor Newton color; a newer version is available from Winsor Newton, but does not have the soft quality of the original pigment and it is a mix of two yellow pigments (to confuse matters even more, they are using the same name, but don't' be fooled, it is different). If you are wondering if you have the 'old' version vs. the new one... the old one looks yellow/orange, the new one looks like burnt caramel when coming out of the tube and tints with water to a brassy yellow. Rumor has it pigment has run out worldwide, unfortunately, so the color I used for so long is now gone. **Update** After trying out countless yellows there is hope for a substitute. Cadmium yellow is actually not too bad if used thinly, Dan Smith still makes New Gamboge with hoarded original pigment (but how long will it last?) however the color is a bit brash and orange-y looking especially in mixes and at fuller strength. Qor watercolor paint (made by Golden) is new on the market as of May 2014, and the Indian Yellow is a beautiful transparent yellow and I would suggest this if you can get it.
Go To: Fresh Style Watercolor - Sample Dick Blick Shopping Cart
Supply List for "Plein-air Fresh Style Watercolor Classes"
****New List****************
PLEIN-AIR SUPPLIES: These items are suggestions and in addition to my main list that discusses paint colors, paper quality, and brushes. You do not need the whole list for the plein-air class. The bare minimum would be a watercolor palette, water cup, brushes, paper, and perhaps a small blanket for sitting on the ground plus a bag for your supplies. You are encouraged to bring your favorite supplies.

TRAVEL PALETTES: You have choices based on how you like to paint. For those who like tiny sketches in journals and small items that are not heavy to carry when traveling, the half-pan sets available are very handy. Half-pans are pre-dried cakes of either artist-quality or student-quality watercolor that moisten very easily. The main drawback is there is usually not much room to mix colors and you can't get big, juicy washes flowing very well. The other option is to use tube paint in a travel palette and let it dry slightly before heading out to paint (to avoid a mess of dripping color). You can also use your big studio palette if you don't mind carrying it.
Large: Use a conventional studio palette such as the John Pike Palette. Tube color.
Medium: Mijello Fusion (formerly called: Homee) Watercolor Palettes. Compact, yet versatile. Buy the 5.5x10.5" small size. Source: Jerry's Artarama. Catalog # 72048. Tube color.
Tiny: Winsor & Newton Artists' Field Box Set. Half-Pans. (12 colors is fine) The Cottman student grade 12 set is surprisingly good for the price.

BRUSHES: Brushes should be protected in a case. Or, a great solution is to buy travel brushes that fold up into their own case.
- Carriers: A bamboo roll-up or canvas case is fine. Source: ASW Deluxe Bamboo Brush Holder (Catalog # 505009). I like my Holbien plastic one (Dick Blick, # 06916-0010).
- Travel Brushes: I recommend Escoda Kolinsky-Tajmyr Pocket Round Series 1214 (size 10 or 12). source: Dick Blick (# 06127-1012). Jackson's in the UK.
There is a USA shortage of sable brushes. Kolinsky sable brushes can be ordered from Jackson's in the UK.

EASELS: An easel is optional equipment when painting outdoors, but can be very handy. Winsor Newton makes a metal watercolor easel that is economical (it's called Bristol), but it does not have a tray. Some trays are sold separatly. More options: a small table for supplies, or to hold your palette. The Bristol can do oil and watercolor (with paper mounted on a block or board). A French easel can be used but can be bulky and heavy to carry, and the angle is better suited to oils. I do not recommend travel with a French Easel (such as for a workshop) as it's too cumbersome but it could be OK for my local Plein Air class. Other options: painting on your lap while sitting down on a folding stool or chair, using two chairs (one for yourself, one as a 'table' for your art, or painting on a blanket while sitting on the ground.
I have a great easel for painting watercolor on location that I have used for years. I just love it! It is very light (I have the 'Traveler' one, not the 'Advanced' series which is heavier and included a large palette in the tray) and I have taken it traveling. I use it for all my class demos. The link is: http://enpleinairpro.com/products.html . You can only get the Traveler size from his site.
CART: A luggage-trolley or folding cart for supplies can be handy. Sampsonite makes a good travel cart and this can be purchased for about $30 on Amazon.
Tips: Avoid painting with sunglasses on if possible, or your colors will be off - usually too dark. Wear neutral clothes. Bright colors (like red) can reflect onto the paper and create a weird glow. For outdoors, avoid perfume, or scented products as it attracts bugs.
My Plein Air Pro Easel "Traveler"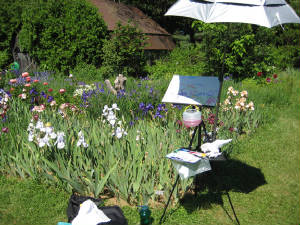 with EasyL Umbrella attached
A luggage trolley with a bungee cord works well to transport gear if heavy
Tote bag
Water for art. Try to save a screw cap plastic jug from a juice container or water bottle
Cup for water
Snacks and water for you
Bug spray
Sunscreen
Umbrella for sun or sprinkle of rain
Camera
Folding Chair
Small camping table (optional)
Hat for shade and to cut glare
Go To: Fresh Style Watercolor - Sample Dick Blick Shopping Cart