FAQ (Frequently Asked Questions)
Q: Do I need prior art experience to take a class?
A: No. However, to get the most out of classes such as portraiture some prior art experience is beneficial (drawing, etc.).
Q: What materials do I need for class?
A: See the watercolor or oil supply list provided in the links at the top of this page.
Q: What about art stuff I currently have, can't I get by with that?
A: The materials I recommend are a suggestion -- there are many good manufacturers of quality materials. Inferior materials will lead to inferior results. If you are in doubt, bring what you have to the first session, and we can go over your items.
Q: Watercolor classes and oil classes are listed, but what about acrylic classes?
A: Acrylic is currently only taught through private lessons. Plein-air workshops and classes are scheduled in the spring and fall and all media is welcome.
Q: Do you teach private lessons?
A: Yes, see below.
Private Lessons:
Private Lessons are taught in: watercolor, drawing, oil, and acrylic. Foundation elements of art such as color theory, and picture composition are also covered. An effort is made to mix what the instructor feels the student is ready for and encouragement for the current level of artwork achieved. Critique on an individual level can be especially rewarding to those not sure of direction, or that have reached a 'plateau' in their work.
Private Lessons have limited openings. Please contact Christine for details. lashleystudio (at) yahoo (dot) com - don't forget a subject line such as 'art lessons.' (fix the email, it's spelled this way to prevent spam)
Watercolor Workshop Student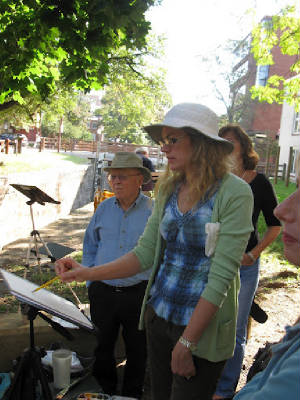 Christine Lashley's Spring Plein-air class in Georgetown.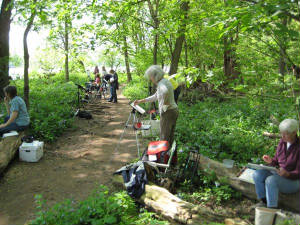 Spring Plein-air class



Christine Lashley - Fine Artist

Art Classes and Workshops

Click For: Watercolor Supply List

Click For: For Oil Painting Supplies

With 19 years of teaching experience, Christine Lashley includes demos, lectures, critiques, and lots of painting time to teach students how to see colors and shapes with artistic eyes. Fundamentals of composition, color theory and value structure are also covered. Painting with loose, fresh brush strokes comes from understanding these core art concepts. All oil painting is with solvent-free methods and non-toxic ways to paint. Wet-in-wet painting, layers, glazing and alla-prima methods are explained for both oil classes and watercolor.



INTERNATIONAL & USA

TRAVEL WORKSHOPS:

Paris, France, 2018

PARIS - CITY OF LIGHT: Paint Paris! It's every artist's dream to paint on location in Paris. Rooms will be in in a hotel on the Left Bank. Walk to Notre Dame and the Seine. All media welcome. Instructor demos in watercolor and oil. May 16-21, 2018. Ground transportation, meals, hotel extra (contact Christine for estimated total costs). Art instruction: $850 for 6 days/5 nights in Paris. Non painting guests are free.

Email Christine for the brochure pdf

**A few seats left**




Tuscany, Italy, 2018

TUSCANY, ITALY: Paint Plein-Air in Tuscany! Learn to paint the best of Italy: Near Siena, fly in and out of Florence. Rooms will be in in the estate section of the property. Fabulous Tuscan vistas plus: pool, 3,000 acres of forest, livestock pastures, organic vegetable gardens, and olive trees. All media welcome. Instructor demos in watercolor and oil. Aug. 16-23, 2018. Includes all ground transportation, day-trips, meals (breakfast, lunch, dinner) except Sat. dinner. 8 days, 7 nights. Group trip to Siena and another hill town. Our wonderful pastoral organic farm retreat has been written up in BonAppetit , Travel + Leisure Magazine and many other publications as a favorite 'green retreat'.

** Enrolling now! HALF FULL! Email Christine for the brochure pdf **




ONE DAY/WEEKEND WORKSHOPS:

PLEIN AIR 1-DAY OR WEEKEND WORKSHOPS

Past workshops have been at varied locations, such as gardens, gourmet restaurants, farms, wineries, and local historic places such as Harper's Ferry. A fall workshop is currently being planned near Leesburg to paint fall color. Email Christine to be notified on her "pre-notify list." Workshops will be posted when details are available.

Click here to contact Christine.

WINTER Fresh Style Portraits/Figure

GLEN ECHO, MD:

Learn how to work with the figure in your art and/or

create portraits. Loosen up and have some fun. Create

believable and painterly skin tones, hair, features, and

backgrounds. We will work from both reference photos

and the model. Some experience (such as drawing or

prior painting class) is required.

Prior students are welcome to use this as a STUDIO class (model optional).

All media welcome. Instructor demos in oil and watercolor. Model fee extra.




A: Jan. 19 - Mar. 23, 2018, Fridays, 10am-12:30pm. 8 classes $280 plus model fee. **FULL**




B: Jan. 19 - Mar. 23, 2018, Fri, 1-3pm $200 plus model fee. 7 classes. NEW CLASS just added!




Skip date of Jan. 26, Mar. 9, (Mar. 16 class B)

Enrolling now through Glen Echo Catalog (info below).




Click For: Yellow Barn/Glen Echo Lashley Classes Enrollment Link (new browser window)




Fresh Style Watercolor

RESTON, VA: Watercolor basics and intermediate techniques. This class happens spring, fall and winter and is for Reston residents. Enrollment is through the RCC catalog (Reston Community Center). Class gets full with a

wait list within a week of open enrollment (sometimes with a lottery also), so do not delay registration. Wed. 10-12:30

TO REGISTER FOR CLASSES - CONTACT:

Glen Echo Park, MD: The Registrar's Office is located on the second floor above the Popcorn Gallery. You may register in person. Register online at: http://www.glenechopark.org. Or call the Glen Echo Registrar at: 301.634.2222

Christine Lashley: For day-workshops and travel workshops. See 'contact' page to contact Christine.

Reston Community Center, VA: Watercolor class is listed in the Reston Catalog with details on how to register. (Reston Residents and people who work in District 7 have priority registration).

**********************************************

Please register early to avoid disappointment, many classes fill quickly!

Glen Echo makeup classes are offered within each season (spring, summer, fall). No makeup classes are offered in the winter as there is only one class.

http://www.glenechopark.org/registration-policies-procedures.