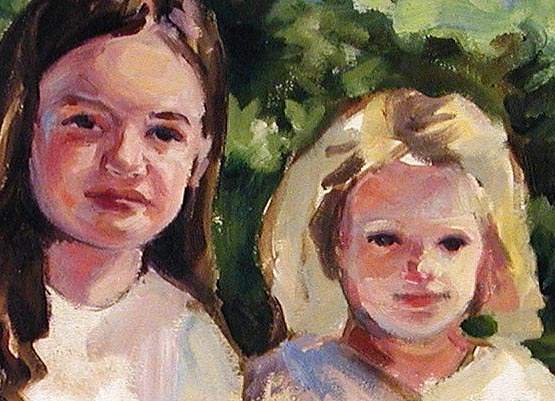 Step 1: Detail
1: First Steps - Blocking In The Color
This portrait of two girls in a woodland setting was painted in several stages. After creating a rough drawing on the canvas with burnt sienna pigment, the main color is blocked in. As the painting develops, it is helpful to step back and review frequently. I check for light consistency and proportion. At this stage, my goal is to cover the canvas. I'll add the whites in a thicker layer later.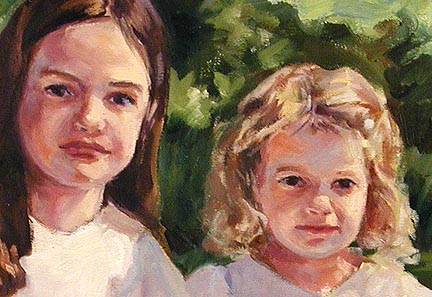 Step 2: Detail
2: Building The Colors And Refining Shapes
Now that the color is blocked in I start to refine the edges, blend colors and define shadow shapes. More color is applied over the big blocks from before to add depth. Many passages are painted wet-in-wet or 'alla prima'. But some areas are allowed to dry for overpainting, such as the sun-lit areas on the white dresses. Despite the final apperance of a white dress on the canvas, no pure white is used when painting it. Each brush stroke has some mixed color, such as blue or yellow.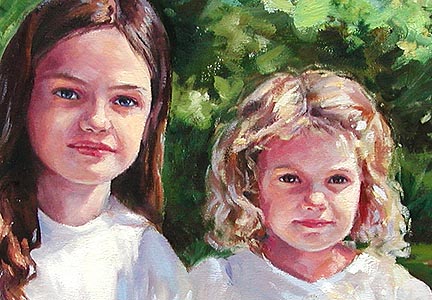 Step 3: Detail
3: Finishing The Details
I continue to add more paint, blend and refine. At this stage I work carefully on the faces and get out my smaller brushes for the eyes and mouth. (Before this, all areas were done with larger brushes.) The bright folds on the dress fabric are painted and are the lightest areas in the painting. Finally, the background is brought up to the level of detail as the girls. The grass was one of the last areas to be worked on.
Painted With Archival Materials
All my work is original and hand-painted by me. Only artist-quality oil paint is used, in the tradition of the old masters with transparent darks and opaque buildup of light areas. Over time this method has proven to be the most archival, lasting for centuries. My watercolors are also created to last. The paper is archival 100% cotton with fine artist-grade pigments.
My Art Is 100% Created By Hand - Unlike Some Others
No projector, or photographic ink, or anything besides hand applied artist's paint is used on my canvases. Some outfits that sell 'portrait art' are really only a computer manipulation of a photo with ink sprayed on a canvas. In some cases the canvas is 'hand touched' with paint or wavy varnish to simulate a real piece of art. Often the customer knows they are getting a manipulated print, but sometimes 'hand touched prints' can be deceptivly marketed and the customer mistakenly thinks they have an original custom painting.
A few of the reference photos used for the portrait
Reference Materials & Photos
Of a dozen pictures, this was the best pose, with interlocking sun and shadow shapes adding interest. However, the extreme lights and harsh shadows were a problem. Other photos were used for the girls faces. All in all, about 12 different photos were used for reference.